Note: I've published an updated version of this piece on my new website. Check out content marketing statistics 2020!
Your intuition is like a compressed lump of wisdom gained through your life experiences and learnings. Your feelings are highly valuable in making effective decisions, especially if you tend to over-intellectualize projects.
However, relevant industry data is an asset. It can uncover blind spots in your thinking and prevent faulty decision-making based purely on your ego. 70% of marketing executives say that data-driven marketing is a core element of nearly all campaigns.
Data-driven marketing can help you make your campaigns more consumer-centric and earn more consumer engagement.
Over the years, the interest in content marketing has steeply risen. Here's a look at the Google trends chart showing the increase in the number of people searching for it.
Content Marketing Institute (CMI) reported that 91% of B2B brands use content marketing as compared with 86% of B2C brands. Moreover, the brands that don't use it also plan to start soon.
Here is an updated list of statistics to inform yourself before your document your next marketing campaign.
1. If you use paid search marketing as a benchmark, then content marketing generates three times the leads per dollar spent
A "content marketing ROI" study by Kapost (in collaboration with Eloqua) found that the long-term hard benefits of content marketing outweigh paid marketing.
Content marketing also has lower upfront costs. Also, in the long run, it builds momentum and your cost per visitor decreases.
Neil Patel relied on SEO to grow his website's traffic, and here's a look at his expenses year-over-year.
In 2016, he wanted to grow quickly and invested over a million dollars in marketing. However, as of 2017, he was able to generate a B2B visitor at 8 cents.
On the other hand, you can never take your foot off the gas pedal with paid marketing.
No wonder, Skyword found that 87% of visionaries and 81% of leaders keep content at the core of their marketing efforts.

2. Majority of companies dedicate their marketing budgets towards paid marketing (and it isn't the cheapest avenue…)
Say what?
Over the course of a year, Neil Patel interviewed 208 companies (both B2B and B2C) across various domains.
He found that irrespective of the size, companies spend a majority of their budget on Facebook ads and Google Adwords.
Here's a look at companies between $5 million and $100 million.
And here's a look at companies over $100 million.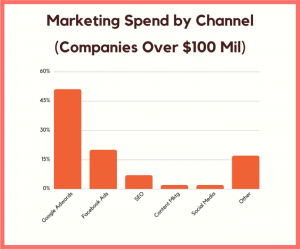 Indeed, paid channels also convert better than SEO and content marketing.
However, what's surprising is content marketing/SEO generate the highest return on the marketing spend.
Why do companies keep spending money on paid advertising?
As you can clearly attribute the spending on ads to sales. With content marketing and SEO, it's tricky to track cold hard revenue. Further, the ROI is not immediate. It can take anywhere between three to six months (maybe more) to see results.
As much as content marketers understand the need to prove an ROI on their spending, 18% of marketers in a Skyword study don't even measure the effectiveness of their content.
[However, the way out is doing the hard thing of setting up tracking using Google Analytics and not falling for shiny new marketing tactics. SEO and content marketing are proven to work and still get amazing business results. Here's a break down of how Contently calculates the ROI of their content marketing.]
3. Only 37% of B2B brands and 38% of B2C brands have a content strategy
In 2018, the key to successful content marketing is having a strategy. And it will continue to be the same in 2019.
CMI found that 62% of "most successful" B2B marketers and 59% of "most successful" B2C marketers have a strategy in place.
In spite of the strong connection between documenting a strategy and tasting success, merely 37% of B2B brands and 38% of B2C brands have a documented strategy.

The message is clear; without further ado, you need to analyze your data and spot trends.
What kind of content performs well with your audience?
Are there any hidden opportunities that might improve the effectiveness of your content marketing?
If you didn't have tracking in place, then look at your competitors. Try to spend time with your customers, observe their behavior, and try to find meaningful small data.
Do you find it overwhelming to create a full-fledged strategy straight away?
Then, begin by identifying your ideal customer. You can use HubSpot's MakeMyPersona tool to create a pictorial representation.
Next, create a one-page plan (courtesy of the Content Marketing Institute). It can list your goals, objectives, strategy, and the key performance metrics you'll rely on to measure your progress.
Before you begin content creation, I highly recommend having an editorial calendar in place. To scale your content marketing efforts, you need to enforce deadlines while maintaining quality.
In their research of 1000 content marketers, Skyword found that almost all of the visionary/leader use a content calendar.
Business blogging statistics and trends 2019
Alright, you documented a content strategy. You understand your audience, you have set goals, and raring to go. Suppose, you begin with blogging as its the proven, low-hanging fruit of content marketing. Here are some queries you might encounter.
Is there a word count you should shoot for? Long-form content seems like a drag for your audience. So should you invest more time writing 1000+ words?
What frequency of publishing should you aim for? Maybe, twice a week. That's what Shreya Dalela, founder of The Creatives Hour did to scale the traffic of one of her client's from 0 to 75k users per month in a year!
Given that there's so much backlash against it, is there still a business case for guest posts?
Let's answer all of these questions with data from a few extensive studies.
4. Bloggers that post big articles are more likely to get "strong results."
You might have heard it numerous times that long-form content is winning the web. Backlinko found that it gets special love from search engines. It also gets shared more than short-form content on social media.
No wonder, there's a rise in the number of bloggers writing longer articles and a decline in articles containing fewer than 500 words.
In the annual analysis of 1000 bloggers by Orbit media, here's a look at the percentage of bloggers writing short vs. long posts.
The average blog post is now 1142 words. It's 41% more than the average length three years ago. Today, to keep your audience engaged, you need to deliver remarkable content. Six times as many bloggers now write 2000+ word articles.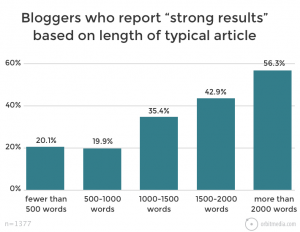 In long-form content, integrating multimedia is essential to break down the content and not bore the audience. Indeed, audio and video are likely to get you better results.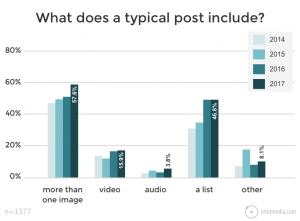 Lists continue to enjoy popularity as a content type. Bloggers like using bullets and numbered lists, and so do readers as they help them skim the content. And when you do write those long pieces of content, don't forget to check for spelling and grammar issues with a tool like Grammarly. You can check out my Grammarly review to understand its features.
5. A higher blogging frequency correlates with stronger results
Gary Vaynerchuk vouches by his philosophy of "document, don't create." It calls for taking off the pressure of always publishing "high-quality" content. Instead, focusing on consistently documenting your progress.
It's a practical way to approach content marketing as it's difficult to pinpoint what works well for your audience.
In 2015, HubSpot found that companies publishing 16+ blog posts per month report 3.5x more organic traffic than companies that publish 0-4 monthly posts.
Even in 2018, the results stack up. Yes, there's a gradual decline in the frequency of publishing.
One reason is bloggers are spending more time on every post. The two words that define the theme of the kind of content that works right now are: quality and relevance.
Now, most individual bloggers publish "several times a month. It's a decline from the "2-6 times every week."
However, a higher frequency of blogging also correlates with "strong results." One reason is it equates to more indexed pages in search engines. As you gather more data on what works, you can streamline your content creation + promotion strategy.
The message is clear: dedication to creating high-quality content pays off. The more time you spend working on a post, the higher are the chances of reporting "strong results."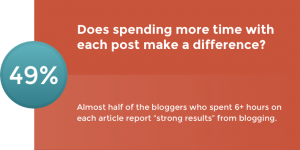 The most important takeaway for you is to remain "consistent." As Nat Eliason notes, most blogs treat deadlines as suggestions. You need to create an editorial calendar and follow it to the T. Here's an example plan by Nat inside Trello.
6. Guest posting remains a popular tactic and updating older content has seen an adoption as a tactic
I mentioned how my guest posting efforts this year failed as I wasn't able to build an email list. However, I know I did something wrong, and the intangible benefits of guest posting far outdo quantifiable metrics.
Among these indirect benefits include building a ponal brand, relationships, improving writing skills, and better search engine visibility.
And so, even after Matt Cutts publicly speaking against it, most bloggers guest post, at least occasionally. Here's a look at the Orbit media survey results – ⅔ of bloggers guest post.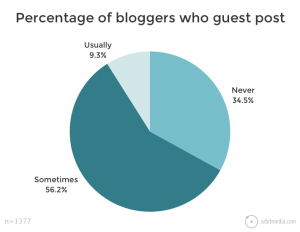 However, the survey didn't find any correlation between bloggers that guest post and getting "strong results." The qualitative results of guest posting make it worth it. I have kicked off guest posting in 2019 at Begin Dot with an article on intent research.
Next comes a newer underused tactic from the books of popular bloggers – updating older content. A majority of bloggers are now updating their older posts.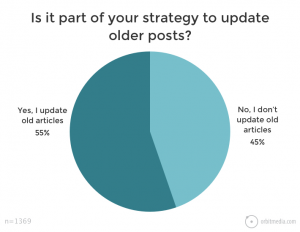 It shouldn't come as a surprise that bloggers that update old articles are 74% more likely to report strong results.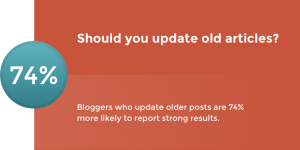 Let me share some more examples of updating old content with you.
Brian Dean used the content relaunch formula to relaunch his underperforming content. It increased his organic traffic by 260.72% in a couple of weeks.
HubSpot performed historical optimization to increase their organic traffic by 106%.
Orbit media also improved an existing piece of content with fresh content and improving its overall quality.
The result was visitors spending 70% more time on the article and a drop in bounce rate by 7%.
Content distribution and promotion stats
In the past five years, the amount of content published online has catapulted. You can't get away with mediocre content, but you also can't afford to simply press the publish button and "hope" that it's discovered by your audience.
Many internet marketers recommend spending as much as 80% of time promoting and 20% of time creating content.
As a creator, I would rather recommend creating the "best piece of content" online on your chosen subject. Then, instead of overwhelming yourself with 10 marketing tactics, experiment with a couple and measure your results.
Let's look at a few specific tactics and how you can ensure that your content reaches its audience.
7. There's a 5x increase in paid content promotion since 2014
SEO and organic social media promotions are still extensively used to drive traffic to blog posts. However, paid content marketing has seen a quick adoption.
The harder the promotion tactic is, the more is its effectiveness as they require more work. For instance, Influencer marketing is reported as being "effective" by over half of the bloggers that use it. Similarly, cracking paid marketing to generate a positive ROI is tricky, and bloggers report "strong results" using it.
While investing in paid marketing, it makes sense to spend your money on mobile. Adobe Digital Insights reported that smartphone use has climbed by 18%, while desktop has plummeted by 32%.
By 2019, mobile will account for 72% of digital ad spend in the US.
If you find paid marketing confusing, then don't enter the worlds of Facebook and other social media. Instead, you can submit your content to a community like Quuu promote.
I have experimented with it, and it can act as a good relationship building tactic on Twitter. Besides you also get a few 100 visitors and an initial boost in the number of shares on your article.
8. Email marketing effectiveness stats: Email remains the most effective channel for content distribution
Chatbots will help businesses save $8 billion a year. If you look around, you will see most users spend time in messaging apps.
However, people still check their emails. CMI reported that 79% B2B marketers and 74% of B2C marketers reported email as the most successful distribution channel.
For B2B marketers, blogs (at 45%) and social media platforms (at 40%) take the distant second and third spots respectively.
Even for B2C marketers, blogs (at 50%) and social media platforms (at 50%) take the distant second and third spots.
What kind of emails should you send?
In the Adobe Consumer Email Survey, 40% of respondents said they want lesser promotional emails from brands. They would prefer informative emails.
Your strategy for approaching email marketing needs to change. You need to segment your visitors and send them targeted, personalized emails that interest them.
As a B2B marketer, it's incredibly important to build your relationship and nurture your leads. It's the second most popular email type that B2B marketers use in their content marketing.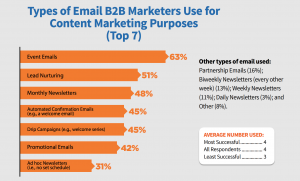 As a B2C marketer, here are the top email types you can use.
Visual content marketing trends and statistics
Text-heavy posts no longer suffice to engage the user. With long-form posts, you always see supporting images, original graphics, cartoons, gifs, and the like. A great example is Wait But Why.
Videos, infographics, and other kinds of visuals make your content easy to digest. They are now the fabric of the internet. Indeed, visuals are the go-to content format for social media marketing – over blogs and other content types.
Here's a look at most compelling stats around visual content marketing in 2019.
9. Visuals are 4/6 of the most used content types by B2B marketers and 3/6 of the most used content types used by B2C marketers
As a brand, visuals mean a better recall as compared with textual piece of information. Even three days later, people remember 65% of the visual content in comparison to about 10% of the written content.
Further, people follow visual instructions 323% better than written information.
No wonder, videos, photos, and infographics are among the top 6 types of content used by B2C marketers.
And videos, infographics, videos, and photos are the among the top 6 most used content types by B2B marketers.
How to integrate visuals in your marketing?
You can begin designing social media graphics with tools like Pablo and Canva. For creating your first infographic, you can use a tool like Piktochart.
And if you're ready to shell out $50, then Fiverr is a potential option to hire a designer. My client Andrew Wise spent $25 and hired this designer on the platform.
After getting an infographic designed for my post, he promoted it extensively and managed to get 97 backlinks and 589 shares.
10. Video marketing trends and stats: Globally, IP video traffic will be 82% of all consumer Internet traffic by 2021
People love watching videos and its expected to constitute 82% of all internet consumer traffic by 2021.
HubSpot found that it's the most preferred content type that people want to see from a brand or business.
It's undeniable – you need to invest a chunk of your budget in producing video content. It's a powerful way to communicate and emotionally connect with your audience.
The most popular channel where consumers like seeing videos is YouTube. However, Facebook is catching up soon.
And don't mistake that consumers want to see only entertaining and funny videos. There's a place for educational video content as well.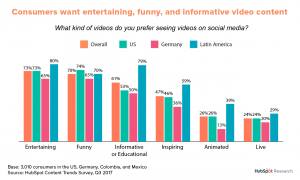 The key is to get creative in your video content production and post more authentic content. Instead of posting recorded videos, experiment with going live. Live streaming receives a higher reach on social media platforms, and it's still an underused content type by brands.
Take lessons from books of Carol Tice and Jon Loomer.
Carol goes live and answers audience questions that serve as a supplement to her webinar trainings.
Jon regularly conducts live training for his audience of advanced Facebook marketers.
Final Thoughts
Content marketing requires patience and skill, but its results are long-term. You need to put out high-quality content consistently to make it work for you.
It helps to study the trends and leverage them to document a fool-proof strategy that's backed by data.
How do you plan to build a business case for content marketing strategy using the data I have shared in the article? Let me know in the comments.